Free Debt Overview that helps you get a clear overview of your finances. Get an overview of consumer loans, mortgages and other debts, and monitor developments month by month, year by year.
If you are struggling to keep track of debt, small loans or credits, you can use this new free debt overview template that works for openoffice, google docs or excel.
This template is an updated and nicer version of my private debt statement that I have used over the past year to pay off debt. Now I also use this version to keep track of my own debt and the evolution of the private economy.
Get debt overview and follow developments
Each month I spend 10 minutes checking the balance of various creditors and filling in the numbers. Personally, I think it gives a big motivation boost when you can see the development over time, and together with a budget, I always know how my private economy is developing.
Fill in your numbers and feel free to use the template with a budget to set yourself savings goals. Filling in the numbers each month will give you a simple overview of all your debt, as well as a graphical representation of your total debt each month.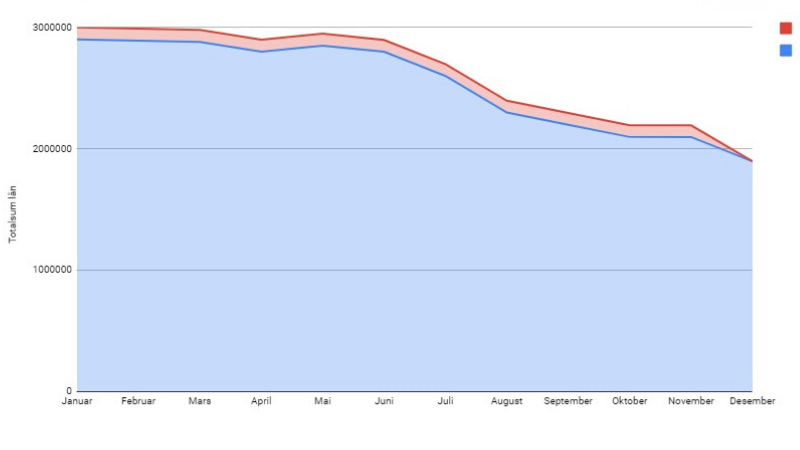 In the debt overview, Blue shows total debt including mortgage loans. Red shows other debt (small loans) and development. Enter your own numbers.
The spreadsheet is editable, so you enter your own numbers and change your debt name to suit you. You can also change the appearance of the graphs, or add your own.
Increase motivation
Increase your motivation to become debt free by keeping track of graphs and developments along the way. I personally love graphical representation of economics so two graphs are included in the template.
One graph in light blue shows a simple representation of what the balance of all debt and loans (eg mortgage loans) is month by month. This usually has a lower total sum and will therefore be more dynamic with larger movements, which in any case for me increases the motivation to continue paying down debt.
It also has a red overlay showing the total debt (including any mortgage) month by month.
Annual development of total debt
The second graph shows an annual presentation of debt developments. Here you can fill in the total debt at the end of each December and follow the trend year by year.
Use this excel or openoffice template to get a better overview of your personal finances. Feel free to use it along with a personal budget that will help you reduce consumption, or the debt-snowball method to get rid of debt faster.
You can also consider refinancing various small loans into a new lower-interest refinancing loan. A small tip is that one should refinance debt that takes longer than 6 months to pay down.
However, if the debt and balance is low enough to quickly get rid of it, it is often easier to focus on paying down that debt.